As of May 13th, 2019, our self-service content is no longer accessible to users who are not signed in to the Help Center. To ensure that our users are fully capable of accessing our user guides and other self-service content, we have implemented a new method for logging in to the Help Center. A new menu option is now available within the User Profile drop-down menu as shown below.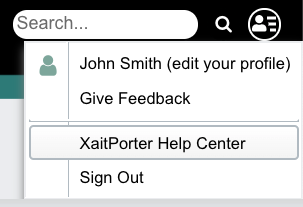 Selecting the above option for the first time will present you with a new tab asking that you verify your email address. Once your email address is verified, selecting the XaitPorter Help Center option will automatically log you in and open our Help Center in a new tab. Once logged in, you will have full access to our self-service materials and can freely submit support requests or review previously submitted ones.
If for some reason you are unable to access our Help Center, or if the above option does not work for you, please contact us at support@xait.com. For additional contact information, or to learn more about our hours of operations, please refer to our Support & Contact Information page.